To Coat or To Paint - That is the question!
One of my professional pet peeves is the use of the verb "paint" instead of "coat" when it pertains to our professional garage floor epoxy coatings. Typically, I get "So your company paints the garage floors with epoxy?" And I usually answer with "Stronghold Floors coats the concrete floor with professional grade epoxy and polyurea." My heartburn is with the use of the word paint instead of coat.
As a verb, Merriam-Webster defines PAINT as "to apply color, pigment or paint to" or "to color with a cosmetic"; where COAT is defined as "to cover or spread with a finishing, protecting or enclosing layer". The latter is far more correct in defining what we do and the former just diminishes what is really happening.
The answer is Garage Floors Epoxy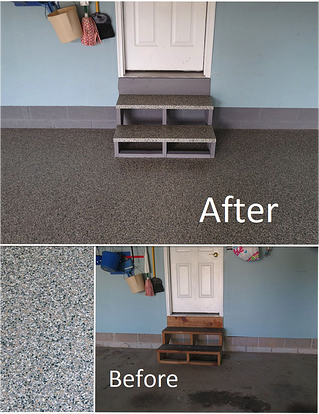 OK, I know - enough semantics already! But to highlight why this bothers me so much, I need to contrast the outcomes of having a coating of garage floors epoxy versus a paint kit finish.
With a professional garage floor coating, you get durability, chemical resistance, scratch resistance and a finish that won't disband.
With a garage floor paint kit, you get hot tire-peel, staining, chemical damage and a lot of frustration from wasted time, effort and money.
Our typical garage floors epoxy are applied anywhere from 8 to 12 mils thick per layer vs. a floor paint kit that is 1 to 2 mils thick.
Most DIY floor paint kits do not feature a protective top coat or, if they do, the protective clear coat is often 1 to 2 mils of urethane. Our typical garage floor coatings feature a 9 to 11 mils thick, polyaspartic polyurea that provides unrivaled performance.
Circling back around to the frustration, installing a DIY kit may not just waste your time, it may also expose you to safety risks, create liability/compliance issues, and impact your home's resale value – see 5 Things to Consider Before You DIY Concrete Floor Coatings.
Still thinking none of the above is relevant? Check out the story from a DIY homeowner who approached us back in 2014 at the PA Home Show.
We realize professional garage floors epoxy isn't for everyone. But, forewarned is forearmed!
Mike Mincemoyer is the President of Stronghold Floors. He has been actively involved in garage floors epoxy projects since 2004.